Promotions & Specials
FREE Walking Animal Balloon for all Pediatric New Patients in March!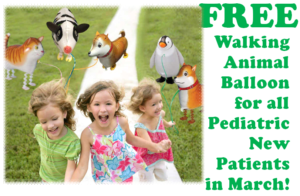 FUNtastic Dental is pleased to announce that for the month of March (until 3/31/20) we are offering free Walking Animal Balloons for all pediatric new patients.
The American Academy of Pediatric Dentistry as well as the American Academy of Pediatrics recommend that a child be seen by a pediatric dentist by the time their first tooth appears or no later than their first birthday. Our experience shows that when a child begins dental visits at a young age, they are more at home in our office and are more likely to stay on a path to a lifetime of optimum dental health. Our mission is to make every appointment in our office a positive experience for both parents and their children while helping to achieve optimum dental health for your child. Our staff thrives on making visits fun and relaxing. Call us to schedule your child today (562) 912-2007.
New Patient Welcome Special

New Patients are always welcome! Schedule your child's first time dental visit with us and get a full-mouth exam, oral cancer screening, oral hygiene instructions, dental X-rays, fluoride varnish application, and a professional dental cleaning all for only $149.97! This is something that we would normally charge $504 for.
Mention this special when you schedule, offer ends 4/30/2020! Call us TODAY: (562) 912-2007. We look forward to welcoming your kids for their first time dental visit with us!
Invisalign Day: April 10, 2020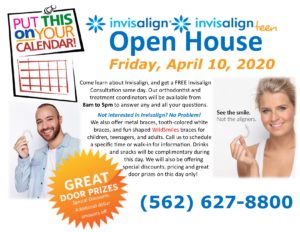 At FUNtastic Orthodontics, come learn about Invisalign, and get a FREE Invisalign Consultation same day. Our orthodontist and treatment coordinators will be available from 8am to 5pm to answer any and all your questions. We also offer metal braces, tooth-colored white braces, and fun shaped WildSmiles braces for children, teenagers, and adults. Call us to schedule a specific time or walk-in for information. Drinks and snacks will be complimentary during this open house informational day. We will also be offering special discounts, pricing and door prizes on this day only! Click on the image to Learn More!