FUNtastic Pediatric Dental Office Tour
Our greatest goal is to give you the healthy, straight, beautiful smile that you've always wanted. We understand that choosing to receive orthodontic care is a big decision, and we respect your reasons for wanting to improve the way you look and feel. Our practice will work with you every step of the way to make sure that your orthodontic care is as rewarding as possible. Our practice utilizes the latest technology, offering a variety of safe and gentle treatment options to give you the customized, individual care you deserve.
Every Smile Starts With an Initial Consultation!
Your initial visit to our office is very important to us. It gives us the opportunity to get to know each other and determine what YOU hope to accomplish with your or your child's smile. Please allow approximately 1 hour for your first visit to our office. Our treatment coordinator will begin by taking digital photographs of your teeth. During this visit, Dr. Wu will perform an oral examination and answer all your questions. We will discuss the type of treatment needed, when it should start, and the estimated treatment time. We recommend that both parents attend their child's first visit to our office so that we can make sure you fully understand all aspects of the problems and solutions with an eye toward addressing your desires and your concerns.
If this is the proper time to address the orthodontic problems, we will be ready to initiate the most advanced orthodontic diagnosis in Southern California. Better yet, we can save you a trip by beginning treatment immediately that day as well! We respect that your time is valuable.
While your child is having complete diagnostic records taken, our treatment coordinator will develop with you an affordable payment plan for treatment. She may also help you arrange future appointments that fit your busy schedule..
By the end of your first visit you'll feel confident that you are in good hands! And hopefully, you will be excited to begin your orthodontic journey at Dr. Klein's FUNtastic Orthodontics! After your consultation visit, we will schedule your first appointment and Dr. Wu will place your new orthodontic appliance.
Scheduling Appointments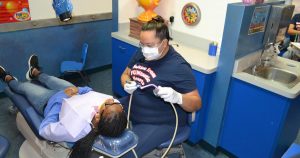 Dr. Klein's FUNtastic Pediatric Dental and Orthodontics is fully digitized and the scheduling system is refined to give you the appointment times that you want, quality treatment you expect, and the luxury of running on time. It also enables us to answer any questions that you may have, thus keeping you fully informed about your treatment.
We understand that many parents and children have extremely busy schedules, so we guarantee after school/work and Saturday appointments for your routine visits.
Important to the success of this system is that longer appointments are scheduled at less popular times of the day. Generally these visits are the day the braces are placed on the teeth, and the day the braces come off, with a few exceptions. By agreeing to comfort/emergency visits and appointments longer than 45 minutes during weekday mornings, we are able to accommodate the greatest number of parents and patients during afternoon and evening hours for your regular 6 to 8 week visits.
Should you wish to come to the office during a quieter time, please let our team know and we will book your appointments in the morning.
Parents and patients assume responsibility for a regularly maintained appointment schedule. Late arrivals do pose a problem and in all fairness to other patients, we may have to reschedule your appointment for another day if you are late.
Should a bracket or band become loose, please advise our office prior to your regular adjustment appointment. We will try to accommodate you at your regular visit, but it may be necessary to schedule another time, depending on the urgency of the disturbance and the schedule for the day.
We do require 24 hour notice for rescheduling appointments to help our office serve you better. Please understand that if visits at popular times are missed or rescheduled without sufficient notice, we will be unable to offer you these times for future appointments.
Our scheduling policies have been carefully devised for several reasons. Remember that successful orthodontic treatment is the result of a partnership between Dr. Eric Wu, his staff, your family dentist, and especially you. We look forward to working with you to help you discover the secret behind Dr. Eric Wu's special smiles!
Visiting the Dentist during Orthodontic Treatment
It is very important that you continue to visit your family dentist once every six months, even during your orthodontic treatment, for teeth cleanings and routine dental checkups. If extra dental care is needed, we will be happy to coordinate with your family dentist to make sure that you are receiving the best care possible.