Let's talk a bit more about
General Anesthesia…
I get asked a lot of questions when I recommend general anesthesia for a patient, and rightfully so. Believe me, I understand your concerns, and I do everything in my power to get your questions answered. Our wonderful anesthesiologist, Dr. Jon Bennett will also speak with you at any time before and after the procedure. We want you and your child to have the best, and safest experience in our office, and sometimes general anesthesia is the best way of achieving this. So I invite any and all questions regarding general anesthesia and so does Dr. Bennett, please do not put it off any longer, let us answer your questions and address your concerns. Our emails are below and if you would like his direct phone number, give us a call and we will be happy to share that with you. And if you have a chance, check out both of our websites for more information.

Websites: www.FuntasticDental.com
http://coastal-anesthesia.com/

Email Addresses: Info@FuntasticDental.com

Sincerely,
Dr. Daniel Klein

We love to give recognition to our new friends. Here are the new patients that became members of our practice family this August. We'd like to welcome you & wish you all the best.

Antonio Almanzi, Carmel Artstein, Brandon Ball, Sophee J. Bernard, Emily Bodine, Makenna Bolin, Dominick Bonilla, Annika K. & Nicholas S. Bretherton, Kyle Brown, Anthony Cadiente, Livana Carlos, David Casillas, Nicholas Castillo, Ethan Chek, Austin & Melanie Colvin, Gavin & Matthew R. Cuellar, Melody Dadgar, Jayden Diaz, Bruno & Johnny & Ruby Flaim, Michael Friedman, Patrica Garay, Jack & Kate Gibson, Dylan Gold, Alexander & David Gonzalez, Jonah Gonzalez, Elissa Groves, Nathaniel & Nicholas Gurrola, Adam Harlow, Jacob Hayes, Taylor Hermes, Dylan Hervey, Logan Jette, Kai Johnson, Kalyn Johnson, Stephen R. Juckett, Evan Kao, Alice Kermode, Maullica Khiev, Bella Kim, Izaac D. & Rylee M. Kitchens, Mackenzie Koet, Kainalu Langan, Lauren Ma, Isabella Macias, Cole Mann, Lucia Medina, Brynn Minter, Payton Miraglia, Guillermo & Silverio Moreno, Michaela Ngo, Brittny & Ian & Kirstyn Nold, Nicholas & Samantha Ochoa, Angelo Plakakis, Cameron Rauch, Skye Reynolds-Nickelsen, Daisy Rivera, Vincent Roberts, Juan Alexander & Serena Rodriguez, Alina & Mia Romo, Maxson Sauser, Quinn Shell, Isaiah J. Small, Tessa & William Splanger, Luke Steimke, Thomas N. Stolze, Allison Tavarez, Joleen Thav, Michaelan Thorne, Katharine E. & Jose L. Vega III, Pierce Velker, and Elijah Joseph Devin Williams.

Thank You For Choosing Us!
Dear Caregivers and Insurance Policy Holders,

Now is the time to think about "Open Enrollment" for Dental Insurance and it is also the time to prepare your Flex Spending Accounts for the coming year. Most businesses have this month of September as the time to make changes to your dental plan that will become effective in January 2011. Often, we find that people seem to think they know what they have signed up for, only to find out they wished they had chosen the other insurance for their orthodontic needs. Sometimes this mistake can delay dental and orthodontic treatment for a full year. We would like to help you in making the best choice. Please call the office now for your FREE orthodontic consultation appointment. At this appointment Dr. Sanjideh (our incredible new orthodontist) will do a complete exam and let you know if treatment is recommended. Also, Veronica or Kerin (our incredible treatment coordinators) will go over your expenses to help you prepare your finances and insurance choices.

In addition, having an orthodontic consultation appointment before January 2011 can help prepare you for your medical and dental taxed free savings known as Flex Spending Accounts or Cafeteria Plans.

Tell a friend too! They would be grateful that you reminded them about their benefit.

Best,
Dr. Daniel Klein



Fierce weather, flu epidemics, gasoline shortages, power outages, and other natural or man-made disasters: you never know when an emergency situation may strike. Since September is America's National Preparedness Month, why not take steps now to gather supplies and make plans? Depending on the type of emergency, make sure that all family members know what to do, where supplies are stored, and how to get in contact with each other. These are simple yet effective ways to give you and your family peace of mind.

Making a supplies kit

The U.S. Department of Homeland Security's checklist recommends gathering adequate supplies for 3 days. However, you may want to consider stockpiling up to a week's worth of basic items, including:

Water for drinking and sanitation (1 gallon per person per day)

Non-perishable food

Can opener, eating utensils, paper plates and cups, and paper towels

Radio, flashlight, and extra batteries

Whistle

Matches in a waterproof container

Dust mask, plastic sheeting, and duct tape

Wrench or pliers

Local maps

Sanitation items (moist towelettes, toilet paper, garbage bags, plastic ties, chlorine bleach, and a medicine dropper)

Fire extinguisher

Making a first aid kit for dental emergencies

In addition to the government's recommendations, be sure to create a first aid kit that includes supplies for dental emergencies:

Clove oil (a natural pain reliever)

Tweezers

Dental mirror

Small cotton pellets, gauze, or cotton handkerchief

Petroleum jelly

Dental floss

Soft dental wax

Ibuprofin (not aspirin)

Saline solution

Extra toothbrushes, toothpaste, and dental floss

Extra supplies for denture care as needed

Contact information for our dental office and dental insurance


Presented by Dr. Daniel Klein Children's Dentistry & Orthodontics 2700 Bellflower Blvd. #217 Long Beach, CA 90815 562-912-2007 www.FuntasticDental.com


Many children are calm, comfortable, and confident in a pediatric dental office like ours. That's mainly because pediatric dentists, like Dr. Daniel Klein and Dr. Golian, specialize in treating children, and we choose to work in a pediatric dental office because we like kids and are willing to take extra steps to maximize your child's comfort during their dental visit. Sometimes however, your child may still feel anxious during treatment and may need more support than a gentle, caring manner to feel comfortable. Laughing Gas (Nitrous Oxide) is a safe, effective technique to calm a child's fear or anxiety- that's when Laughing Gas comes in.

What is Laughing Gas (Nitrous Oxide)?
Nitrous Oxide, also known as "laughing gas", is a gas that's combined with Oxygen to produce a calming effect and a sense of well being when inhaled. Many dentists use Nitrous Oxide to help patients relax during dental treatments. When the dental procedure is over, the dentist will have the patient breathe only Oxygen for a few minutes to eliminate the effects of Nitrous Oxide. Unlike other forms of sedation, the patient should have a clear head within minutes of coming off of the Laughing Gas allowing them to function normally with no lingering effects

How will my child feel when breathing Nitrous Oxide?
Your child will smell a sweet, pleasent aroma and experience a sense of well-being and relaxation. If your child is worried by the sights, sounds, or sensations of dental treatment, he/she may respond more positively with the use of Nitrous Oxide.

How safe is Nitrous Oxide?
Very safe. Nitrous Oxide is perhaps the safest sedative in dentistry. It has the following qualities: It is well tolerated, not addictive, has quick onset, is reversible, can be adjusted in various concentrations, and is non-allergic. Your child remains fully conscious (keeps all natural reflexes) when breathing Nitrous Oxide.

Are there any special instructions for Nitrous Oxide?
Inform Dr. Daniel Klein, or treating dentist, about any respiratory condition for your child, such as colds & allergies that can cause stuffy noses, as they may limit the effectiveness of Nitrous Oxide. Second, inform Dr. Daniel Klein, or treating dentist, if your child is taking any medication on the day of the appointment.

Will Nitrous Oxide work for all children?
Since all children are not alike, every service is tailored to your child as an individual. Nitrous Oxide may not be effective for some children, especially those who have severe anxiety, nasal congestion, or discomfort wearing a nasal mask. Dr. Daniel Klein & Dr. Golian will review your child's medical history and inform you if Nitrous Oxide is recommended for your child.

*Let your child know we have GRAPE, STRAWBERRY, ORANGE, VANILLA, MINT, & BUBBLEGUM scented noses for them. Also, talk to us about providing you with a sample take-home nasal mask so you may practice wearing it at home, that way your child may be better prepared for their Nitrous Oxide visit.

If you have any questions, concerns, or comments about Nitrous Oxide please email Dr. Daniel Klein at Info@FuntasticDental.com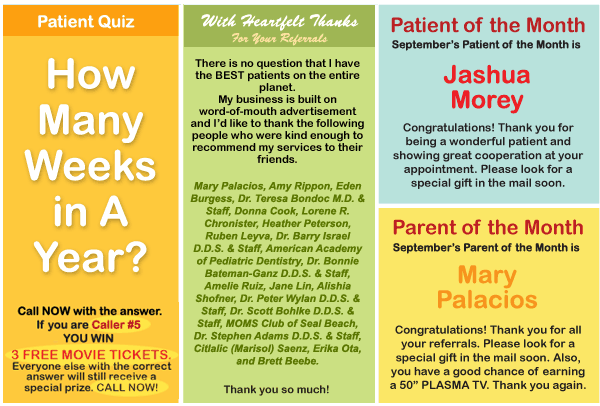 Dear Parents, Guardians, Caregivers,

We're seeing an unfortunate increase in appointment cancellations these days, and we wish we could figure out why. It's always been our contention that your time is valuable. So we have one theory about scheduling -your child deserves our undivided attention. For this reason, we take pride in that we do not double-book like other practices, and accept walk-ins only in the event of an emergency. When we schedule a dental visit for your child, that time is yours. It belongs to you and your child. So when cancellations happen -sometimes as little as an hour ahead of time- we feel like we've been stood up for a very important appointment. An appointment that has everything to do with your child's on-going dental health. Of course flat tires, illnesses, and family emergencies do happen -and we understand. But the cost of needlessly missed appointments is borne by us all–in overhead, in time and energy, and eventually, in patient fees. Our team has made a promise, professionally and personally, to give your child the concern, respect and care that makes our office a comfortable and pleasant place to visit. Having said this, we would like to inform you that effective immediately, our office policy on cancelling appointments and broken appointments is as follows:

"A minimum of 24-hour notice is required for cancellations. We need this amount of time so that we can contact a child from our waiting list to offer the appointment. If we do not get the necessary 24-hour notice, we reserve the right to charge your account a broken appointment charge of $75 per child. This fee must be paid before a new appointment can be scheduled for your child. Once the fee has been paid, we will not ask you to pay that fee ever again, unless another appointment is cancelled or failed in the future."

We value your time, as much as we hope you value ours. If you have any questions regarding this office policy or would like a copy of our office policies please email us Info@FuntasticDental.com or call us 562-912-2007. Thank you for your understanding regarding this matter.

Sincerely,
Dr. Daniel Klein Children's Dentistry & Orthodontics