Happy New Year!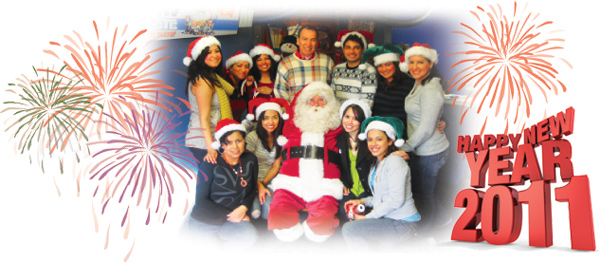 I wanted to take a moment to wish all of you a happy new year. Going into 2011, your children are assured to get the same high-quality attention and dental care from me and my team. Each year, we all do our best to improve our skills and our practice to offer your children the best dental service in the area.

And, as we head into the new year, I'd like to remind you to make sure and prioritize dental health for you and your family. The little things you do for home care and with your regular cleaning and prevention visits are very important.

Best wishes for the new year. I hope that you will continue to tell your family and friends about our practice and let people know about the excellent dental care your children receive from us.

We love to give recognition to our new friends. Here are the new patients that became members of our practice family this past December. We'd like to welcome you publicly & wish you all the best.

Kobi Ainis, Rafe Armstrong, Kevin Atkins, Jadon Bailey, Ayrton & Isaac Beltran, Azure Burks, Jackson Caldarella, Warren J. Campbell, Janelle Carrillo, Colt Carrol, Nausicaa & Yunalesca Chem, Arianna Diaz, Zineb Diouri, Makoa Eclevia, Gracen Edeskuty, Aaron Edwards, Diana Espinoza, Kaveh & Sasha Farajian, Emma Frank, Dahlia Gutierrez, Marlie Harris, Isaac Hernandez, Sofia Hipolito, Eliot Hodam, Ava & Madeline Jones, Benjamin Laws, Javier Llamas, Lorenzo Lora, Juan Jesus Magallanes, Kellan & Liam Mc Gee, Devon Morgan, Madison Morris, Chloe Neprud, Isaac Ovalle, Lila Oxford, Miles Kayden Page, Eriana Pula, Andrew Reza, Anthony Rosales, Sara Russell, Kevin N. Shelby Jr., Dylan Suarez, Ava Suppiphatvong, and Zackary Thomson.

Thank You For Choosing Us!
Creating beautiful smiles has never been easier for today's patients. Unlike, the treatment many parents had to endure, the treatment options for today's children is much:

Easier

More comfortable

Typically produces fuller smiles, with longer lasting results and less incidence of relapse

Healthier TMJ function that lasts for a life time

There are typically few cases that would involve or necessitate the removal of permanent teeth (extractions), and very few cases in which the 'socially awkward' and unwanted use of headgear is needed. Customized care is a hallmark of everyone's treatment at Dr. Daniel Klein's FUNtastic Pediatric Dental & Orthodontics. Dr. Sanjideh will review the specific needs, concerns of each patient before recommending a specific course of action. Many children are in need of 'orthopedic' care to develop jaw shapes and positions prior to 'orthodontic' movement. This helps to eliminate the time actually spent in braces and creates a more stable end result with healthier joint function (ie. improved TMJ health).

Orthodontics does not only create beautiful smiles, but creates a healthier mouth and jaw function while contributing to the self-esteem of the patient. Call us TODAY to schedule your FREE ORTHODONTIC CONSULTATION, 562-912-2007

We now offer 2 convenient orthodontic days: Mondays and Wednesdays.

NO PAIN DOES NOT MEAN NO PROBLEM!


If you are tempted to skip
appointments
because your child does not feel pain, and you can't see anything wrong, think again.
What you can't see or feel can cause the most trouble! These dental
problems can be treated, and often reversed, if spotted early.

Here's What We See That You Can't

A dental examination can detect deterioration in fillings, crowns, and restorations.

We may spot root cavities (decay on the root
of your child's teeth) which are exposed due
to decay or receding gums.

Close inspection can reveal and even identify the early warning signs of oral cancer.

We may find new decay under the gumline or hidden under existing fillings- two places you just can't see!

Your child's teeth may have hairline fractures or signs of enamel erosion.

We can diagnose an impacted wisdom tooth that is ready to make its presence known, although your child may not feel it yet.

The onset of gum disease, called gingivitis in
its early phase, often goes undetected by patients. We can check for any tell-tale signs so that you can take action to prevent its progression toward periodontitis.

Let's talk about Care Credit…………..

Part of our job as your dental care provider is to try and work with you to ensure that your personal financial circumstances do not interfere with your child's dental health care decisions.

Families with limited or non-existent dental insurance are often faced with difficult choices which can exclude much needed dental procedures. This is why we recommend Care Credit, an affordable payment program that has a unique no-interest payment plan. Care Credit enables health care providers, including dentists, to offer flexible payment options to cover many costs that many insurance plans currently don't. With Care Credit, you can pay for treatment over time without any up-front payment required. There are no up-front costs, or annual fees, no prepayment penalty, and the application
process is quick and easy. Care Credit offers monthly payment plans to meet almost every need. The No Interest Payment Plan requires minimum monthly payments, and allows you to avoid paying any interest charges if you pay your balance in full within the specified time period.
With Care Credit you can focus on what's most important- scheduling your
child's dental care right away. Ask us for a Care Credit application….
and begin treatment today!

Referral Rewards Winner 2010


Dr. Daniel Klein unveiled our Referral Rewards Winner at our Annual Christmas Party this year. Regina Vaifanua referred the most patients to our practice during this 2010 year, and she earned a 50" PLASMA TV! We would like to thank her once again, and also mention that many families were not far behind. Thank you so much to everyone for their referrals. And we can't stress this enough, our business is built on word-of-mouth referrals. We focus 100% of our energy into our patients and in return we depend on you to refer your friends and families to us. If you are genuinely pleased with our services, the greatest compliment you can give us is a referral. Find out next month how you can be the next GRAND PRIZE WINNER or log onto our website www.FUNtasticDental.com.

*If you have any questions, or would like to schedule a visit, please call 562-912-2007 email Dr. Daniel Klein at Info@FuntasticDental.com