Have You Heard?
WE PROVIDE
Quality Orthodontics for Children & Adults

Free Orthodontic Consultations
Traditional, Clear/Invisible Braces Available
Low/No Interest Payment Plans
Free Insurance Verification and Filling
Mondays & Wednesdays Available
After work/school Consultations Available

We love to give recognition to our new friends. Here are the new patients that became members of our practice family this past January. We'd like to welcome you publicly & wish you all the best.

Nour Eldeen Abouzid, Caleb Arnaldo, Angeliki Arroyo, Jonathan Arruejo, Kayla Balas, Duncan & Finn Benitz, Flobbateer Botros, Leah Burgess, Maya Cepeda-Rizo, Saajan Chadha, Edward & Elizabeth & Emma Crocker, Alejandro Diaz, Patrick Ferguson, Jayde Gallegos, Brody Gisondi, Sofia Haag, John & Ryan Henshall, Nathan Johnson, Brooklyn Kettler, Kalani Langan, Diego & Gavin & Mia Laverde, Noah Leiva, Jonathan Leomiti, Matthew Luse, Flynn Margetis, Lila Matheny, Jacob & Miracle Mckenzie, Arianna Monjaras, Joaquin Ocampo, Eleanor Ontiveros, Evan Porras, Chloe & Leo Pravednikov, Clarissa Reyes, Ethan Romo, Caleb & Logan Rudman, Vincenzo San Paolo, Hector M. Silva Jr., Christopher Song, Alyssa Thomas, Areion Torres, Matthew Tuft, Adam Turley, Kai Tuszewski, and Addison Yoon.

Thank You For Choosing Us!

One of the main reasons people love our office is because we do EVERYTHING possible to make sure you don't feel a thing! One of my goals is to make pain, fear, and anxiety, when going to the dentist, be a thing of the past! I personally have a low tolerance for pain. I don't want to hear, "This will only hurt a little." No, that's not good enough for me. As far as I'm concerned… I Don't Want It To Hurt At All! I've always hated even the prick of that darn needle …but… there is now a way I can give your kids an almost 100% pain-free injection!

We know that some patients get more nervous than others do at the mere sight of a needle and syringe. I know I do. That's why I now perform all anesthetic injections with a revolutionary system called "The MAGIC WAND", a Computer Controlled Local Anesthesia Delivery System!


It doesn't look like a syringe.

It doesn't hurt like a syringe.

And it works better than a syringe.

A better injection for all patients.

Whether injections make you nervous or not, "The MAGIC WAND" helps us provide a more effective anesthetic delivery. Your kids are more comfortable throughout the procedure, and we use new techniques so they won't experience the lingering numbness of their tongue, lips and face.

Call us for more information or an appointment today, 562-912-2007!
WHEN SCHOOL IS OUT,
DR. DANIEL KLEIN IS IN.



Dr. Daniel Klein knows how important and
imperative school is. Which is why our office is open during school closures. Call us today to schedule your child's appointment during the following "no school" days:


How often should I change my child's toothbrush? This is a very important question, one that we do not get asked often enough. Well my answer is, "We should ALL change our toothbrushes every three months for optimal oral health, and anytime immediately after an illness, and definitely when the bristles are no longer perfectly straight". In a survey by Colgate-Palmolive, only 8.6% of consumers comply. In fact, the survey shows that most Americans replace their toothbrushes every 9 months. Can you believe that? I keep my car cleaner than that. When I read that I thought about something my mom used to say to me as a kid, 'Don't stick that in your mouth. It's filthy'. But now we do that with our own toothbrushes. The typical toothbrush is reused for months, never cleaned thoroughly, and usually is stored under warm, moist conditions perfect for bacterial growth"….. "This little piece of plastic, which is the very basis of home dental care, repeatedly is plunged into one of the dirtiest parts of the body (eeew). More than 300 kinds of sugar bugs (germs) thrive in the human mouth."

Researchers have established that thousands of germs can grow on toothbrush bristles and handles. Most are harmless members of the mouth's microbial zoo; others are cold and flu viruses, the herpes virus that causes cold sores, staphylococcus bacteria responsible for many ear, nose and throat infections, the Candida microbe that causes thrush, and bacteria that can cause gum disease. Bottom line, after a while, toothbrush bristles wear down and become breeding grounds for bacteria. By replacing their toothbrushes more often, we can prevent a lot of illnesses, including tooth decay. All of this lead me to state the following: "Patients of Dr. Daniel Klein's FUNtastic Pediatric Dental & Orthodontics should never have to purchase another toothbrush ever again!" Basically, with the economy the way that it is, and with the research percentage as low as it is, any patient of Dr. Daniel Klein's FUNtastic Pediatric Dental & Orthodontics can walk into our office any time and ask for a FREE BRAND NEW TOOTHBRUSH as often as necessary, no questions asked. Whether after an illness, or the bristles are no longer perfectly straight, or they lost theirs, or the dog got it, or your little brother scrubbed the toilet bowl with it, come in for a FREE toothbrush anytime. And that includes parents too. WOW! Now that we will provide FREE YEAR-ROUND TOOTHBRUSHES for as long as you are a patient of Dr. Daniel Klein's FUNtastic Pediatric Dental & Orthodontics!…….I wonder what's next, FREE 50" Plasma TV's??…..oh wait, we already do that. Learn more about that on our website www.FUNtasticDental.com.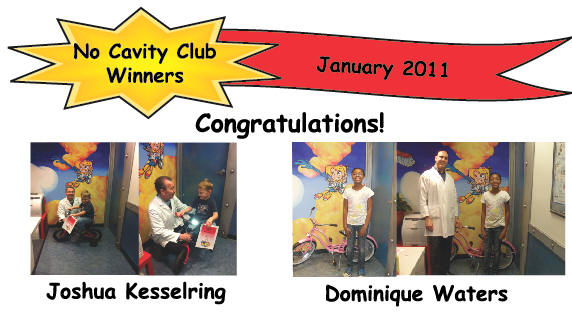 *If you have any questions, or would like to schedule a visit, please call 562-912-2007 email
Dr. Daniel Klein at Info@FuntasticDental.com