Where is Your Child's Mouthgard?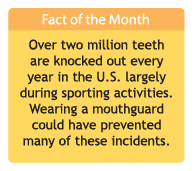 Most people wear a mouthguard during sports in an effort to prevent any damage to their teeth. The new generation of mouthguards has been shown to reduce forces that not only protect, the teeth but also can prevent concussions, neck injuries, jaw fractures cerebral hemorrhage and even death. This is accomplished by separating the jaws, to prevent the condyles from being displaced upward and backward against the wall of the glenoid fossa. The proper use of a mouthguard can reduce the incidence and severity of injuries during sports and athletic activities of any type.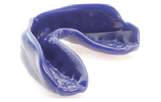 Every person in your family, who is involved in any athletic activity where contact can be made or a fall can occur, should be using an athletic mouthguard. Some examples are baseball, basketball, boxing, rugby, hockey, squash, soccer, racquetball, tennis, lacrosse, karate, judo, volleyball, touch and contact football, bicycling and skating.
To get children to wear a mouthguard on a regular basis, it must be comfortable, not impair breathing and allow for normal speech. The mouthguards available in our office have these characteristics and are custom formed for the individual patient. The ready-made, store-bought tooth protectors and thermoplastic mouthguards usually fall short in one or more of these important features and therefore is not be recommended.
DID YOU KNOW???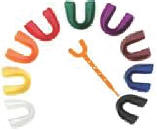 Two or more concussions can affect the mental ability of a child for years, and has worse affects on kids with learning disabilities. If you plan to purchase a mouthguard for your child, why not consider wearing one yourself and suggesting it to other members of your family?
Let your loved ones know about the risks of injury during active sports so they can make informed decisions as to whether a mouthguard is right for them. Dr. Daniel Klein can show you how to select the best mouthguard, and how to encourage your child to use it! If you have any questions or would like to learn more about mouthguards, please contact us (562) 912-2007 to schedule a mouthguard consultation. Your child can choose from a variety of colors, and they can add logos and team names if they wish. PLAY SAFE, WEAR A MOUTHGUARD!
We love to give recognition to our new friends. Here are the new patients that became members of our practice family this July. We'd like to welcome you & wish you all the best..
Venesha Antenorcruz, Sierra Ash, David Bergmann, Jaxson Bonsall, Mikayla Brady, Gwendolyn Burns, Bruno & Luca & Rocco Caldarella, Miranda Campbell, Erica Castleberry, Leilany & Makayla Castro, Armando Chavez, Elliot Cleckler, Amber & Sydney Cortez, Connor Dattilio, Jaliyah Edmond, Andrew Freyre, Eric Galvan, Dane Goodwin, Kayla Holdredge, Bryce & Chelsea & Corry & Morgan Jones, Delilah Juarez, Seth Keeler, Caroline Kerns, Jackson Klein, Patrick Kuras, Miya Lao, Joshua Manso, Kiara Maze, Nickolas McGaughey, Nickolas Medrano, Jordan Mitchum, Elijio Mondragon, Adrianna & Angela & Jessica Myles, Isaiah Nava, Raquel Nunez, Jessica Olsen, Caleb Ota, Madeline Palm, Arman & Shyla Patel, Nicholas Pemstein, Francesca & Sebastian Perez, Miles-Vincent Petrick, Adrian Portillo, Charles & Isabella Pruter, Marisa Ramos, Osvaldo Rocha, Hayley Sandhu, Emily Schottler, Joaquin Shin, Crissy Sierra, Ennio Sim, Hailey Smith, Ryder Sobrepena, Cristian & Sienna Soto, Mikaela Stevens, Aaron & Justin Strickland, Carl Tinio, Isabelle & Vanessa Torres, Mason Vanderburg, Sailor Viera, Tatiana Wair, Janaiya Williams, Nyssa Yota, and Annika Young.Thank You For Choosing Us!

I see this almost every day. A patient comes in with his permanent lower teeth coming in behind the baby teeth. We sometimes call it "Shark" teeth. The baby teeth have not come out like they were supposed to. It is most common with the lower front teeth when the child is six years old. A common "emergency" is when a parent notices a permanent tooth coming in behind a primary (baby) tooth. It's not really an emergency, but it does need to be addressed.

In the normal course of events, the permanent teeth slowly dissolves the baby tooth root as it comes in up under the baby tooth. Finally, there is not much root left. The baby tooth gets loose and eventually falls out. The permanent tooth then comes in where the baby tooth used to be. Well, it doesn't always happen just like that. If the child doesn't have enough room for the permanent teeth, then the permanent tooth may not come in right up under the baby tooth. Even when there is lots of room, the new tooth may not be able to restore the baby tooth root fast enough. It then takes the path of least resistance, which is to come in behind the baby tooth. That means there is nothing "pushing" the baby tooth and there may be quite a lot of baby tooth root left. The good news is that the permanent tooth will tend to move forward into the correct position on it's own IF there is nothing in the way and there is enough room. This takes a few weeks or months to move forward into a better position. They may even straighten out a little if they were coming in crooked.

Often teeth come in pairs, so if one tooth is not coming in correctly its partner on the other side won't either. A lot of parents hold out hope the baby tooth will fall out on it's own. Some children are very aggressive in wiggling their teeth. Some just let them hang in there. Remember however, that there may be more root on that baby tooth than you think, otherwise it would have come out by now. Most of the time I have to get in there and gently get the tooth. Even if you can get that tooth out, is there enough room for it to come forward? Many times teeth come in funny because there is some inherent crowding. If I need to remove the baby tooth, it's not a big deal. Most kids do quite well for this. Plus, they get to have their tooth in a treasure chest to put under the pillow for the tooth fairy!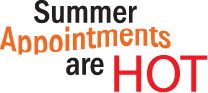 Summer is the Perfect Time to Ensure Your Child's Dental Health!Rather than waiting for the rush of back-to-school checkups, parents can ensure good dental health for children with appointments in the summer and all year long. The American Dental Association (ADA) reports that a dental examination is as important as booster shots and should be part of every child's health plan."Many parents and caregivers do not realize that serious tooth decay is an infectious disease for which there is no immunization," says DDr. Daniel Klein.

More than one-half of all children aged 5 to 9 years have at least one cavity or filling. A painful tooth or chronic dental problem can lead to difficulty in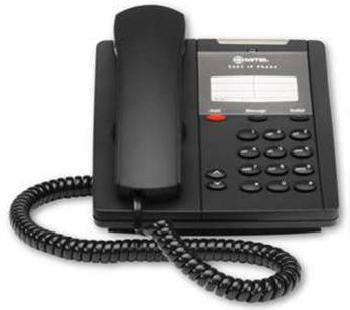 eating, speaking, concentrating, and school absences.
Call us to schedule your child's 6 month dental visit or your child's dental treatment appointment TODAY!
We still have SUMMER APPOINTMENTS AVAILABLE!
562-912-2007
Appointments available as early as 8:00 am and as late as 5:00 pm!

When your child visits us, you can expect the very best quality care for your child. To ensure our office can meet these needs, the following outlines the treatment we institute for routine care:

We provide an exam, cleaning, and fluoride treatment every 6 months. During the exam, we will check the erupted teeth for cavities, the gums for infection, and for abnormalities. We also check for sufficient room for the permanent teeth and evaluate occlusion (the way teeth come together) and the jaw joint.

We use a concentrated fluoride which is applied by brush. We follow the American Academy of Pediatric Dentistry's recommendation which states to "Provide topical fluoride every 6 months." Fluoride is given every 6 months unless you consult with our office prior to the treatment.

Decay detecting x-rays are taken on an as needed bases, usually once or twice a year. We take every precaution to ensure the safety of your child during x-ray procedures.

We will go over preventive measures such as proper tooth brushing/flossing, fluoride, and diet.

Sealants: We are firm believers in sealant application to prevent decay in the grooves of teeth. More information will be provided if your child needs sealants.

We are a mercury free office. This means that we do not place silver fillings in our patient's teeth. Details are available upon request.
We, atDr. Daniel Klein's, hope this information will be helpful and that you will have a pleasant experience with our office.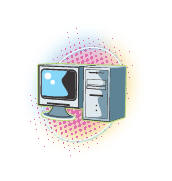 Online Payments

Dr. Daniel Klein understands our patients needs and the fact that sometimes you simply forget to mail out your dental bill in a timely fashion. Therefore we have now made it easier for you to pay on your bill with our all new online secure payment processing service.We have partnered with Vanco Services, which is a

Secure Online Payment Processing Service

used by many businesses around the world on a daily basis.

Dr. Daniel Klein trusts Vanco and you should too because they are a leader in today's security technology. Vanco also uses state-of-the-art fraud prevention to help stop any fraudulent transaction activities. Staying current on your dental bill will now be easier than before thanks to Vanco. You can now make your payments online, avoid late fees, and still enjoy the great dental care that Dr. Daniel Klein provides.

Make a payment today in just 5 easy steps,
see how it works below.


1. Visit our website www.FuntasticDental.com

2. Click on the "Patient Login" tab located on the upper right of our website

3. Log in

4. After logging in, click on "Financials", located on the left hand side of the home page.

5. Click on "Make Payment Now" and chose your payment method, as well as your payment amount. Click "next" once you're done to confirm your payment.

Contact our office if you are having difficulties making an online payment, if you receive an error message, or if you do not have a patient login, 562-912-2007.
Dear Parents, Guardians, Caregivers,

We're seeing an unfortunate increase in appointment cancellations these days, and we wish we could figure out why. It's always been our contention that your time is valuable. So we have one theory about scheduling -your child deserves our undivided attention. For this reason, we take pride in that we do not double-book like other practices, and accept walk-ins only in the event of an emergency. When we schedule a dental visit for your child, that time is yours. It belongs to you and your child. So when cancellations happen -sometimes as little as an hour ahead of time- we feel like we've been stood up for a very important appointment. An appointment that has everything to do with your child's on-going dental health. Of course flat tires, illnesses, and family emergencies do happen -and we understand. But the cost of needlessly missed appointments is borne by us all–in overhead, in time and energy, and eventually, in patient fees. Our team has made a promise, professionally and personally, to give your child the concern, respect and care that makes our office a comfortable and pleasant place to visit. Having said this, we would like to inform you that effective immediately, our office policy on cancelling appointments and broken appointments is as follows:

"A minimum of 24-hour notice is required for cancellations. We need this amount of time so that we can contact a child from our waiting list to offer the appointment. If we do not get the necessary 24-hour notice, we reserve the right to charge your account a broken appointment charge of $75 per child. This fee must be paid before a new appointment can be scheduled for your child. Once the fee has been paid, we will not ask you to pay that fee ever again, unless another appointment is cancelled or failed in the future."

We value your time, as much as we hope you value ours. If you have any questions regarding this office policy or would like a copy of our office policies please email us Info@FuntasticDental.com or call us 562-912-2007. Thank you for your understanding regarding this matter.

Sincerely,

Dr. Daniel Klein Children's Dentistry & Orthodontics