Comparing traditional braces with invisible braces options is strongly recommended before you choose your orthodontic treatment. While both options are highly effective in straightening teeth and correcting common bite problems in adults and teens, the two treatments are rather different.This is a significant investment – it's important that you understand what to know about braces and how they work.
Invisible braces are changing the way people think about orthodontics. And since the average costs of Invisalign are comparable to old-fashioned braces, there are several good reasons why you or your child may want to go "invisible."
So, what are invisible braces, and how are they different from the traditional metal brackets and wires? How do you get information on what to know about braces? Let's take a quick look at the typical treatment process of Invisalign.
Contact Dr. Daniel Klein Today at 562-912-2007! Or Click Here…
Invisalign Invisible Braces Options – What To Expect
1. Talk to your orthodontist
The first important step to understanding Invisalign is determining whether it's a right fit for you or your child. At FUNtastic Pediatric Dental & Orthodontics in Long Beach, CA, we will provide an initial assessment to evaluate your orthodontic needs and discuss your invisible braces options, including costs, estimated length of treatment, potential insurance coverage and so on.
We are happy to answer all your questions so you can feel confident about your decision.
2. 3-D image of your teeth
When you decide to move forward with your treatment, the orthodontist will create a 3-D image of your teeth, based on x-rays, pictures and impressions. The orthodontist will use this image to create your customized treatment plan, determining the exact movements needed to correct the problem.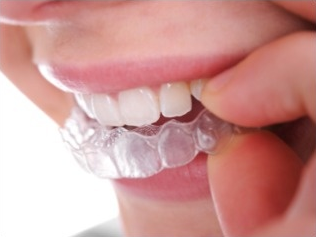 3. Custom, clear plastic aligners
This is where the invisible braces options (Related News) really begin to differ from the older style devices. With Invisalign, you will receive a series of clear plastic aligner trays, which you wear over top of your teeth, removing them when you eat and brush. The aligners are smooth and comfortable, so they do not irritate your cheeks like metal braces often do.
There are no food restrictions, since the aligners are removed when you eat. And since they're made of clear, BPA-free plastic, they're virtually invisible – most people won't even know you're wearing them.
4. Check-ups every 6-8 weeks
Your orthodontist will monitor the treatment and provide a new series of aligners about every 6 to 8 weeks. (Traditional braces require visits about every 4 weeks.) The series includes multiple sets of aligners, so you can pop in a new set every two weeks on your own, without visiting the doctor.
5. A bright new smile
Since brackets and wires won't be covering your teeth, you'll have a much clearer view of your progress during treatment. Although the length of treatment will depend on your unique situation, it typically takes about a year for adults, and up to two years or so for teens (comparable to that of braces).
Contact Dr. Daniel Klein Today at 562-912-2007! Or Click Here…
Learn More About Your Invisible Braces Options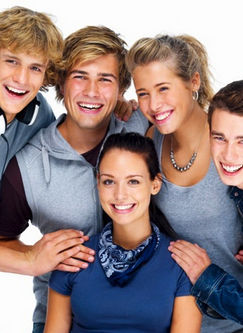 For more information on Invisalign, or the differences between invisible braces and traditional braces, contact FUNtastic Pediatric Dental & Orthodontics today at 562-912-2007 to make an appointment.
Or, simply stop by to see why so many families throughout the Long Beach area choose FUNtastic for their dental and orthodontic needs.
Contact Dr. Dr. Daniel Klein Today at 562-912-2007! Or Click Here…