In a statement issued on March 16, 2020, the American Dental Association (ADA) called upon dentists nationwide to postpone elective dental procedures for three weeks in order for dentistry to do its part to diminish the spread of Coronavirus 2019 (COVID-19). Concentrating on emergency dental care only during this time period will allow dentists and their teams to care for emergency patients and alleviate the burden that dental emergencies would place on hospital emergency departments. The following should be helpful in determining what is considered emergency versus non-emergency.
Dental Emergency

Dental emergencies are potentially life threatening and require immediate treatment to stop ongoing tissue bleeding, alleviate severe pain or infection, and include:
Uncontrolled Bleeding

Injuries such as knocked out teeth, biting your lips, tongue, or cheeks, and countless other things can make you or your child's mouth start bleeding. Rinse the area, place a clean piece of gauze over the wound, and apply light pressure. If the bleeding isn't controlled and doesn't stop within 20 minutes, you should call and visit an emergency pediatric dentist, or the hospital emergency room.

Cellulitis or swelling of soft tissue due to bacterial infection that potentially compromise the patient's airway
Trauma involving facial bones, potentially compromising the patient's airway

If you or your child knocks out an adult tooth, time is a critical factor in saving the tooth. Remain calm. Find the tooth. Handle the tooth while carefully avoiding the root. DO NOT clean or handle the tooth unnecessarily. You'd want to avoid damaging the ligaments within the gum tissue. Using gentle finger pressure, re-insert the tooth into the empty tooth socket. If re-insertion is not possible, place the tooth in a container of cold milk or water. Call your nearest dental specialist or emergency care immediately! Make your way to an open dentist or emergency room as soon as possible.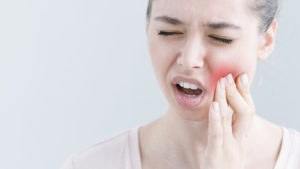 Urgent Dental Care
Urgent dental care focuses on the management of conditions that require immediate attention to relieve severe pain and/or risk of infection and to alleviate the burden on hospital emergency departments. According to the ADA, these should be treated as minimally invasively as possible:
Severe dental pain and tooth/gum inflammation
Third-molar pain
Abscess, or localized bacterial infection resulting in localized pain and swelling

Signs of infection include swelling, heat in the afflicted area, and pain that prevents your child from sleeping. It may appear as a small bump on the gums above the tooth or swelling that extends to the outside of the mouth.

Tooth fracture resulting in pain or causing soft tissue trauma
Other Urgent Dental Care:
Extensive dental caries (cavities) or defective restorations causing pain
Denture adjustments or repairs when function impeded
Replacing temporary filling on endodontic access openings in those experiencing pain
Snipping or adjustment of an orthodontic wire or appliances piercing or ulcerating the mouth
Non-emergency procedures

Routine or non-urgent dental procedures include but are not limited to:
Initial or periodic oral examinations and recall visits, including routine radiographs
Routine dental cleaning and preventive therapies (6 month dental check-up)
Orthodontic procedures other than those to address acute issues (ex. Pain, infection, trauma)
Extraction of asymptomatic teeth
Restorative dentistry including treatment of asymptomatic cavities
Aesthetic dental procedures
Bottom line, when you or your child is experiencing such terrible pain or if the pain is preventing sleep, that's a sign an infection is occurring you should get emergency dental assistance. As always if you have any questions, please contact us at (562) 627-8800.