Events
Our FUNtastic Dental team likes to make sure your child has FUN in and out of the office. We host FUN and FREE events for our patients, their families and their friends. Follow us on Facebook and Instagram to keep up with upcoming events we're hosting.
Join us for a VIRTUAL Q&A WITH DR. BAE!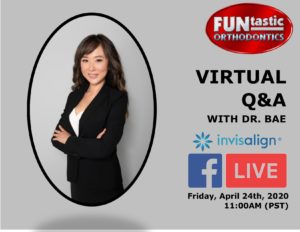 Join us on Facebook Live on our FUNtastic Orthodontics Facebook page Friday, April 24th! Dr. Bae will be answering all the questions if you've considered Invisalign for either yourself or your child. Watch our Live video on our FUNtastic Orthodontics Facebook page, leave a comment with a question about Invisalign to get $450 off treatment & a FREE whitening kit when we are able to see you or your family for a complimentary Orthodontic Consultation.
WHEN: Friday, April 24th 11:00am
WHERE: FUNtastic Orthodontics Facebook Page
Need more info? Call us today! (562) 627-8800.
TO SEE AND DOWNLOAD YOUR FREE DIGITAL PHOTO FROM OUR CHRISTMAS PARTY, VISIT OUR FACEBOOK or click on your photo below and save your image!
(www.Facebook.com/FUNtasticDental)