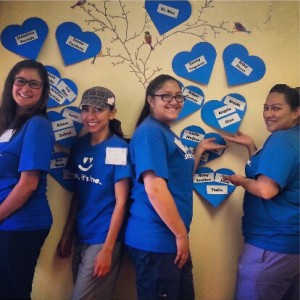 Is your child, or a child you know, in need of dental care but due to tough financial times, or lack of dental insurance have not been able to afford dental care? If so, we invite you to attend our 1st annual Dentistry From the Heart Event at our FUNtastic Pediatric Dental and Orthodontics office. (en español)
This is a FIRST COME, FIRST SERVE event where dental professionals from all over come together to provide FREE dentistry to children of our community.
On Thursday, July 31, 2014 we will be offering at no charge one free service per child under the age of 17. The choices are a dental cleaning, a tooth extraction, or a dental tooth filling for each child under the age of 17. Your child will first meet with one of our team members to discuss your highest priority and your child will then be seen by either one of our hygienists or dentists for the appropriate treatment chosen. We look forward to meeting you!
It is a privilege to partner with Dentistry From The Heart in order to give children of our community, under the age of 17, free dental services. Please share this information with someone you feel may benefit from this event:
What: FUNtastic Pediatric Dental's Dentistry From The Heart 2014 Event
Where: FUNtastic Pediatric Dental and Orthodontics 2700 N. Bellflower Blvd., Long Beach, CA 90815
When: July 31, 2014 – 8:00 a.m. to 5:00 p.m. (First come, first serve. First 100 patients will be treated)
Event Details: No parking will be available on the practice grounds. Patients should provide their own transportation and find appropriate parking off the premises. Also, check out the weather beforehand and dress appropriately since patients will be waiting outside until they can be seen by one of our team members.
What if my child needs additional dental care?
Dentistry From The Heart events are not able to provide for all manner of dental care services. We recommend that patients requiring additional treatment, than what we can provide, contact local free and low cost dental clinics in their area. We have a list of these available for you. Another course of action for low cost dental care is to contact the local dental schools such as UCLA Dental School or USC Dental School.
What if I arrive after 100th patient has registered to be treated?
Due to time and limited dental supplies, we pledge to treat only 100 patients. If you arrive after the 100th patient has been registered, we will provide you with a list of dental clinics that provide free and low cost dentistry all year round. Our hope is that maybe next year (2015) we may be able to recruit more volunteers and more dental supply donors in order to provide services for more children in our community.