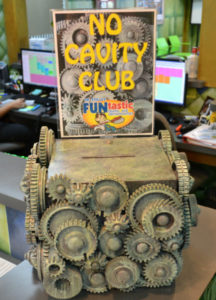 FUNtastic Pediatric Dental developed the "No Cavity Club" to help motivate parents and kids to take better care of their teeth and live healthier lives. Below are a few tips that will help your child to be cavity free and reap the benefits of being a member at our pediatric dentist office in Long Beach.
Every six months you'll visit our Long Beach dentist office for your routine dental exam and if you have no cavities or even no NEW cavities, then you're IN! You get membership in the "No Cavity Club" which is good for six months.
Once you're in…
Every six months you enter your name into a raffle for a chance to win a brand new bicycle that's just your size and YOU get to choose the color!
How do you keep your membership?
Brush your teeth with a pea size amount of fluoride toothpaste at least twice each day. If you can brush after every snack, please do so.
Floss your teeth every single night before you go to bed.
Chew sugar-free gum with Xylitol.
Eat healthy and try to avoid sugary, sticky candy.